---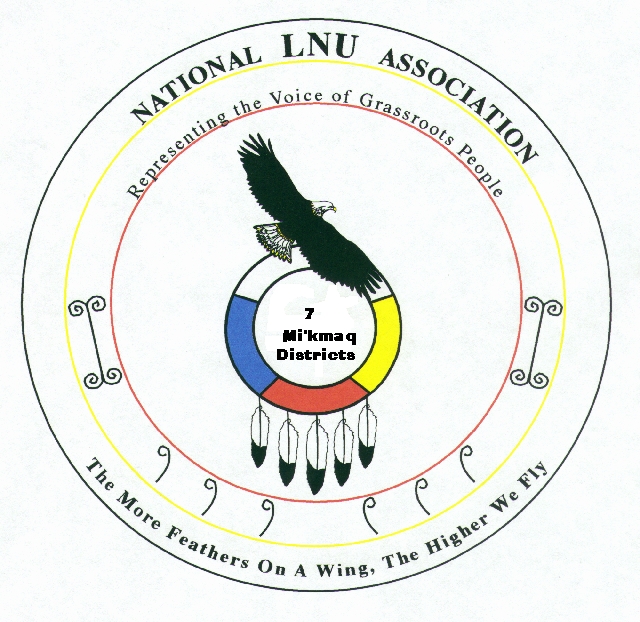 Proposed Logo submitted by Marilyn Francis, Yarmouth, NS.
Other suggestions would greatly be appreciated.
The National Lnu Association (NLA) is an organization seeking to empower the Mi'kmaq people to take charge of their own political, social and economic futures.
Some of the issues the NLA wants to address are:
ACCOUNTABILITY, To Fight reserve corruption and mismanagement of funds;
To Pursue the right to self determination and the inherent right to self government;
To Empower Mi'kmaq treaty rights;
To Protect and promote Mi'kmaq political, social and economic interest.
To Pursue sovereignty for the Mi'kmaq Nation in accordance with the Nation to Nation status of the treaties;
To Eradicate the illegitimate jurisdiction of the Department of Fisheries and Oceans and the Department of Natural Resources; Amongst many other issues.
We firmly believe that in order to create a responsible, legitimate governing system the grass roots people must participate in the process. We encourage all Mi'kmaq people to participate because their opinion and support are valuable.
INTERIM STRUCTURE
SCHEDULED MEETINGS,TENTATIVE OR CONFIRMED UPDATES

---
For further information contact:
Patrick J. Augustine
506-523-1996
Box 19 Site 10
Big Cove, NB, E0A 2L0
alquimou@hotmail.com
Marilyn Francis
902-749-1569
R.R. # 4, Box 5913
Yarmouth, NS, B5A 4A8
marilyn_francis@hotmail.com
James Ward
672 Rue Principal
Apt. # 3
Nequac, NB, E9G 1N4
506-776-5629
ablib@nbnet.nb.ca