Abegweit Voters Denied
---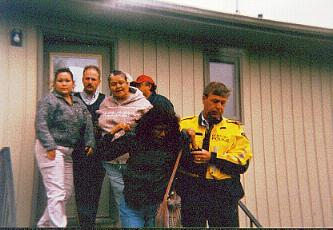 Native Women being escorted away from polling station.
---
Update
Several Native Women were charged for mischief during the Abegweit Band Election held in May 1999. These women, registered with the band, living off reserve, had acted on the Corbiere Ruling and proceeded to the polling station to cast their votes in the band elections. They were denied their ability to vote and then began an impromptu protest. After a brief scuffle where the RCMP removed the women, they were later charged for blocking the entrance of the poll.
One individual pled guilty and received a conditional discharge, two others received what was termed as "alternative measures". Abegweit Band falls under its own Custom Election Regulations, therefore the Indian Act and Corbiere Ruling may not apply to their specific situations. Abegweit Residency Requirements state that band members must reside six months on the reserve in order to vote on the Chief and Council, which serve a four-year term.
The new Chief and Council began immediately researching amending the residency requirements to avoid discriminating against off reserve band members. Draft Election Codes will be examined which then must approved by 75% of the membership, a hurtle placed by the previous administration.