B. Children's Program Director
---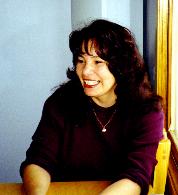 Roseanne Sark is a Mi'Kmaw from Prince Edward Island.
---
Hi I'm Roseanne, I'm the Children's Program Coordinator. We have an excellent program in place. My role is to encourage people to come and participate in the activities we have to offer. I have been doing that. This web-site is one of the means to gain interest and promote the wellness for our children.
Sharon and I have been working very well together by coming up with a work-plan that we are now implementing. If you live in PEI and want to know about us and see the center, drop in for a coffee... *s*. If you happen to be visiting the Island stop in and check us out.



Return to Table of Contents
---

Last Updated October 28, 2000 by Roseanne Sark